– as gov't readies to connect them with rest of the world
RESIDENTS in close to 200 far-flung communities will soon have access to Information Communication Technology (ICT) services.
The ball is scheduled to start rolling now that the greenlight has been given for the commencement of the US$17M ICT Access and e-Services for the Hinterland, Poor and Remote Communities Project.
Though the United Nations Development Programme (UNDP) and the National Data Management Authority (NDMA) had signed the approved Project Document last November, the Guyana REDD + Investment Fund (GRIF)-funded project had been at a standstill pending the signing of the a Letter of Understanding.
Finance Secretary, Dr. Hector Butts last Friday confirmed that the Letter of Understanding was signed between the UNDP and the Government of Guyana on July 9. According to Dr Butts, the Letter of Understanding will guide the execution of the project, and establish the support services.
NDMA Chairman Floyd Levi said now that the Letter of Understanding has been signed, the necessary steps will be taken to hire a Specialist Project Manager and put together a project team. A project board will also be established with representatives drawn from the targeted communities. Once those systems are put in place, Levi said the team will hit the ground running, since some of the communities have already indicated that there is existing infrastructure in place that could lend to the process.
While addressing over 200 Indigenous Leaders at the Arthur Chung Convention Centre on Wednesday, Levi explained that the five-year project, which is being facilitated under the Guyana-Norway Agreement, is designed to strengthen e-Government Policy Environment and National Legislation; provide ICT access to Hinterland, poor and remote communities; and provide Public e-Services and Information.
Guyana's Low-Carbon Development Strategy stresses, among other things, the importance of fostering sustainable development in the hinterland regions and a key component in achieving such an outcome is the linking of public services and information flows to the deployment and use of new ICTs. It is against this backdrop that the ICT access and e-Services project was crafted.
Levi told Indigenous leaders that as the NDMA awaits the activation of the multi-million dollar project, with financial support from the Ministry of Public Telecommunications, it has been bridging the digital divide between the hinterland and the coast.The project, when completed, will see over 580 residents having access to 200 e-Services and 200 ICT hubs, covering approximately 90 per cent of the Hinterland poor and remote communities. Canal Bank, Hobodia, Ecipse Falls, Kamwatta, Karaburi and Red Hill in Region One (Barima-Waini); Akawini, Bethany, Capoey Lake, Kabawab, Mashabo, Wakapoa, St Denny's and St Monica in Region Two (Pomeroon-Supenaam); Caria Caria, Santa Mission, Saxacalli, Aratack and Lower Bonasika in Region Three (Essequibo Islands-West Demerara); St Cuthbert's, Waiakabra, Swann and Laluni in Region Four (Demerara-Mahaica) ; Moraikobai in Region Five (Mahaica-Berbice); Orealla, Siparuta and Cashew Island in Region Six (East Berbice-Corentyne); Agatash, Batavia, Chinoweing, Isseneru and Jawalla in Region Seven (Cuyuni-Mazaruni); Bamboo Creek, Campbelltown, Chenapou, Fairview, Kaibarupai and Kanapang in Region Eight (Potaro-Siparuni); Achiwib, Aishalton, Annai, Apoteri and Fly Hill in Region Nine (Upper Takutu-Upper Essequibo); and Great Falls, Hururu, Kimbia, Malali, Riverview and Rockstone in Region 10 (Upper Demerara-Berbice) are among the villages in the line up to benefit from the project.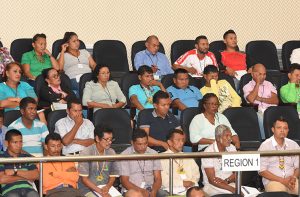 Toshaos from across the country being updated on the projects and initiatives being executed to develop Guyana's ICT Sector (Photos by Samuel Maughn)
He said the move forms part of the government's vision to create 'Smart Governments' and 'Smart Communities' that use ICTs to increase efficiency and transform public services.
Alluding to the work done thus far, Public Telecommunications Minister Catherine Hughes pointed out that more than 100 community ICT hubs have been established across the country so far; while more than 150 primary schools and over 130 secondary schools and tertiary institutions have been connected.
Added to that, over 120 Government Ministries and Agencies have been connected, the Minister pointed out. Minister Hughes told the Toshaos and Senior Councillors that with steady progress in the field of ICT particularly in Hinterland, Poor and Remote Communities, provisions will be made for smart classrooms, allowing their children to connect with teachers in Georgetown and other urban locations using technologies such as Skype. Steps are also being taken to provide for online training of teachers.
To accelerate developments within the sector, she assured that within months, Government will move to fully liberalize the Telecommunications Sector allowing for other local, region and international companies to invest in the sector.
(http://guyanachronicle.com/2018/07/20/far-flung-communities-to-soon-go-hi-tech)